Colin Talk Crypto, who runs the largest proxy voting tool on EOSIO, talked about unethical practices and abuse among the top 21 BP accounts ad nauseum. His investigations, continuous dialogue and courage to report these irregularities are exactly what made his proxy stand out and what earned him the most proxy votes. In his recent tweet he once again uncovered some questionnable behavior by the so-called "sock puppet" BP accounts. Those are the accounts that potentially only exist on paper, don't have any infrastructure behind them, but yet receive enough votes to earn BP rewards. Allegedly, some of these sock puppet BPs could have been set up by other, more prominent BPs in the top 21 list to increase their chances for obtaining a reward.
Here's what Colin's tweet mentions:
When threatened with removal, these sockpuppet Block Producer accounts created the following perfunctory, superficial websites (within 1 day) to "conform to standards" in order to avoid removal. Same site design. Same title font. Same non-existent information. They're the same BP.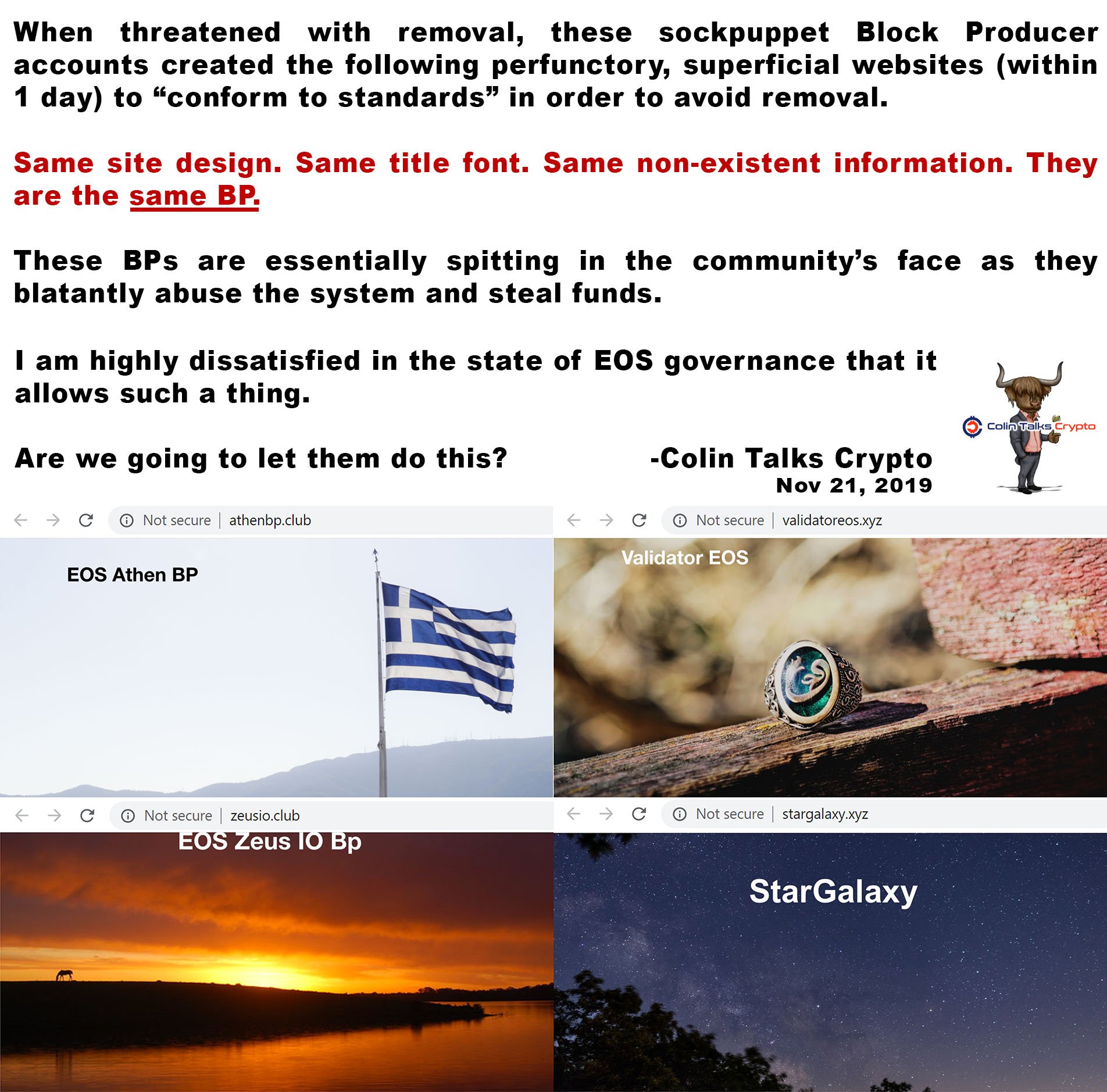 Some bread crumbs seem to a large crypto exchange: Bithumb as reported by EOS New York in their tweet:
Colin continues:
These BPs are essentially spitting in the community's face as they blatantly abuse the system and steal funds. I am highly dissatisfied in the state of EOS governance that it allows such a thing. Are we going to let them do this?
One of commentators suggests moving to 1T1V (1 token – 1 vote) as soon as possible to be able to vote such unethical BPs out of the rewards list:
Colin has created this chart further illustrating the sock puppet domains.
---
Disclaimer. EOSwriter does not endorse any content or product on this page. While we aim at providing you with all the important information we could obtain, readers should do their own research before taking any actions related to the company and carry full responsibility for their decisions, nor this article can be considered as an investment advice.