eoswriter.io is proudly sponsored by EOS Nation
Meme Coin
Move over Dogecoin. There's a new meme coin in town – MORTY$.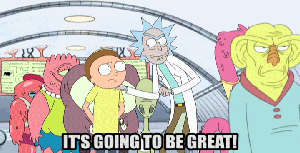 But first things first before we dive deep into MORTY$…
What's a Meme Coin?
If you have been following crypto for quite some time chances are that you have heard of Dogecoin.
Dogecoin was created by a programmer Billy Marcus as a "joke currency" in 2013. It is hard to believe, but it is in fact one of the oldest cryptocurrencies in existence.
Despite its humorous beginnings, Dogecoin actually became extremely popular among the crypto insiders. Even now it is the 29th highest market cap coin as per CoinMarketCap. Its total capitalization is $375M.
At some point it has been widely used as a charity donation coin. Here are a few charity campaigns that were run using DOGE:
Doge4Kids. 20,000,000 DOGE (~$30,000 USD at the time) raised in the span of 3 days on behalf of 4 Paws For Ability, an organization that provides service dogs to disabled children.
Doge4Water. 40,000,000 DOGE (~$39,000 USD at the time) raised in the span of 18 days on behalf of charity:water, an organization dedicated to bringing safe, clean water to those who don't have access to it.
Doge4NASCAR. 67,500,000 DOGE (~$55,000 USD at the time) raised in the span of 8 days to sponsor NASCAR racer Josh Wise.
Probably the most famous charity raise using Dogecoin was for the Jamaican bobsled team to participate in the 2014 Sochi Olympic games. More than $25,000 in DOGE was raised
What is MORTY$
Now that we've got DOGE out of the way, let's talk about MORTY$. So what is MORTY$? MORTY$ is the creation of Kurt Braget and a group of crypto enthusiasts. MORTY$ is currently at a nascent age of two weeks young. As Kurt Braget described it in the original Facebook post, MORTY$ is:
An intergalactic, parallel universe compatible crypto currency meant for virtual world (in-game) assassination markets, shielding rick-like beings, virtualized hijinx and various other stupid shit.
Morty is getting bigger day by day and now has its own chestahedron logo:
As any serious crypto project it also has its own whitepaper. Except the whitepaper has been renamed to Toilet Paper. Read it here.
MORTY coin is already listed in the Lynx Wallet:
Main Use Case
MORTY's main use case is straight-forward: you bribe people with it to GTFO or do something they would otherwise not do. As an example, we at EOSwriter were bribed 2,000,000 MORTYs to write this article (we probably would've written it anyway):
Apparently, Sean Gardner of Emanate used MORTY tokens to bribe a hacker to leave him the fuck alone:
Then there's a highly promising MortyCRUISE coming up (note: not exactly true):
There's also swag. Because what crypto coin has no swag?!
MORTY$ also has its own Twitter account:
So if you want someone to do something for you, bribe them with some MORTY$ and watch your shit get done!
---
Disclaimer. EOSwriter does not endorse any content or product on this page. While we aim at providing you with all the important information we could obtain, readers should do their own research before taking any actions related to the company and carry full responsibility for their decisions, nor this article can be considered as investment advice.